Trans Canada by Rail in a Week
8

days from $2,782 per person
The 'Bear' Essentials
Travel by train from the metropolis of Toronto to the serenity of the Canadian Rockies. An across Canada by train trip fulfills your desire for the energy of big cities and the serenity of nature. As you travel across Canada by train experience first hand how diverse the Canadian landscape really is.
What we love about this trip

• See Canada's world famous towns & cities: Jasper, Kamloops, and Vancouver
• 2 days on Rocky Mountaineer
• 3 nights on VIA Rail
• Mt Robson (highest peak in the Rockies)
• Choice of great hotels

Itinerary

Please note, like most of our Canada rail packages & tours, this railway vacation can be customized to your needs - just ask one of our local experts when you call.

Westbound itinerary shown. Eastbound follows the same itinerary in reverse.

Day 1, 2, and 3 – Your across Canada train vacation begins – onboard VIA Rail's Canadian train
It's hard not to be immediately captured by the exciting sounds of Canada's largest city, as you are whisked from the Toronto airport to Union Station. Here,
The Canadian train awaits and the magic of your across Canada rail trip sinks in. You are shown to your private cabin complete with a large picture window and seats that become a comfortable bed. A panoramic dome car – where you can relax, unwind, and take in all the sights – is steps from your cabin. Tasty meals are served in an elegant yet casual dining car and chatting over a drink with fellow travelers keeps you engaged throughout your trans Canadian journey. Climb into your warm bed and let yourself be rocked to sleep by the clickety-click of timeless tracks - if only every vacation was so relaxing. After three peaceful nights on the Canadian train, you spot the snow covered peaks of the Canadian Rockies. Overnight onboard the Canadian.

Day 4 - Enter the Canadian Rockies – arrive in Jasper
Step off the Canadian Train and take a deep breath – the crisp mountain air is revitalizing after your long trans-Canadian journey. You are completely surrounded by mountains and trees. Jasper is in the middle of pure pristine wilderness. The quiet is relaxing and you are at ease as you make your way to your charming hotel in the heart of the Canadian Rockies. Overnight in Jasper.

Day 5 - Your across Canada train trip continues - a day in Jasper National Park
Explore the magnificent Maligne Valley on a tour and cruise, and discover striking natural beauty, abundant wildlife and a genuine geological mystery. While searching for osprey, bald eagles, big horn sheep, elk, deer and bears, you'll visit the longest natural lake in the Canadian Rockies, view a spectacular 50-metre gorge created by 10,000 years of erosion and travel to "disappearing" Medicine Lake, the source of what is believed to be the largest underground river system in Canada. Spend the night in Jasper.

Day 6 - On the Rocky Mountaineer train – Jasper to Kamloops
The train's whistle breaks the morning silence and the smell of fresh fruit and orange juice wafts through your car as the Rocky Mountaineer pulls out of the train station in Jasper and you continue across Canada. Step onto the outdoor viewing platform for unobstructed views, cool breezes, and if you're lucky a light misting off Pyramid Falls. Early in the evening, after a day of good food, great company, and awe-inspiring scenery, the Rocky Mountaineer train arrives in Kamloops. Enjoy the warm weather and perhaps a glass of the local Okanagan Valley wine before bedding down for a good night's rest. Overnight in Kamloops.

Day 7 – Continue Across Canada by Train – Kamloops to Vancouver
This morning, return to your home on rails – the Rocky Mountaineer. Travel through the mighty Thompson Canyon before catching sight of awesome Hell's Gate, where 200 million gallons of water push their way through the narrow gorge. This afternoon you travel through the lush Fraser Valley before arriving in Vancouver, a city surrounded by mountains and ocean. Vancouver's laid back personality is just the kind of last stop you need after your train trip across Canada. Overnight in Vancouver.

Day 8 - With Fond Memories Made – Depart Vancouver


Much too soon, you leave the clean air and colorful sights of Canada behind as your Canadian train trip comes to an end.

What's Included

Here are just a few of the things to look forward to on this trip...

Customize this trip a little... or a lot

Think of this itinerary as just a starting point. Work with us to personalize this trip by adding some amazing side trips & activities, like...
Accommodation Options
Below you'll find examples of this trip's accommodation options. Please call us for the full list or advice on how to customize your experience.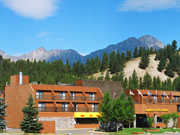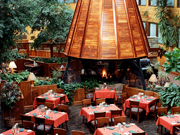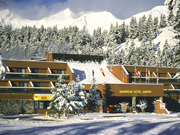 Sawridge Inn
An example of our Comfort and Superior accommodations
Jasper's Sawridge Inn is a favourite among travellers looking for understated luxury at affordable prices. Unwind in newly renovated rooms with marble bathrooms and take a dip in the large indoor pool.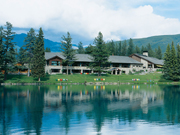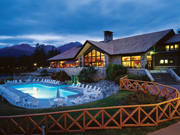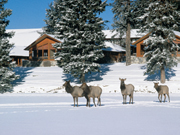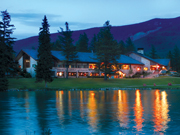 Fairmont Jasper Park Lodge
An example of our Deluxe Lodge accommodations
The Fairmont Jasper Park Lodge is it's own Canadian wilderness resort. The property is made up of many buildings with different room types throughout the resort. Relax by the lake, or enjoy a round of golf on the beautiful Stanley Thompson Golf Course, or enjoy a game of ice hockey on the lodge's pond. Be sure to keep your eyes open for Elk as they walk past your building!
Prices & Dates
2013 Westbound dates starting in Toronto

April 20 27 30
May 4 7 11 18 21 25 28
June 1 4 8 11 15 18 22 25 29
July 2 6 9 13 16 20 23 27
Aug 6 10 13 17 20 24 27 31
Sept 3 7 10 14 17 24 28


2013 Eastbound dates starting in Vancouver

May 9 16 23 30
June 6 13 20 27
July 4 11 18 25
Aug 8 15 22 29
Sept 5 12 19 26

Below you'll find the prices for this trip, and here are some helpful hints. Make sure to give us a call to chat about your options.

• Prices are per person, and double means two people sharing a room. Please give us a call for single, triple, or child rates.
• RedLeaf, SilverLeaf, and GoldLeaf refer to the type of train service on the Jasper - Vancouver portion of the trip
• Comfort, Superior, Deluxe, and Deluxe Plus refer to the hotel accommodations


Rocky Mountaineer Train Upgrade Options:*

• Upgrade price, for comfort guests to upgrade from RedLeaf to SilverLeaf train service is $578 USD (May) and $526 USD (June - September)
• Upgrade price, for comfort guests to upgrade from RedLeaf to GoldLeaf train service is $947 USD
• Upgrade price, for Superior guests to upgrade from SilverLeaf to GoldLeaf train service is $368 USD (May) and $421 USD (June - September)
* Prices are per person

RedLeaf Train Service &
Comfort Hotels
USD$
Double
Apr 20, 2013
2,782
Apr 30, 2013
3,050
May 04 - May 23, 2013
3,344
May 25 - Jun 20, 2013
3,728
Jun 22 - Sep 28, 2013
4,391
SilverLeaf Train Service &
Superior Hotels
USD$
Double
Apr 20, 2013
3,413
Apr 30, 2013
3,746
May 04 - May 23, 2013
4,062
May 25 - Jun 20, 2013
4,402
Jun 22 - Sep 28, 2013
5,074
GoldLeaf Train Service &
Deluxe Hotels
USD$
Double
Apr 20, 2013
4,091
Apr 30, 2013
4,501
May 04 - May 23, 2013
4,838
May 25 - Jun 20, 2013
5,471
Jun 22 - Sep 28, 2013
6,201
GoldLeaf Train Service &
Deluxe Plus Hotels
USD$
Double
Apr 20, 2013
4,708
Apr 30, 2013
5,279
May 04 - May 23, 2013
5,638
May 25 - Jun 20, 2013
6,443
Jun 22 - Sep 28, 2013
7,244
Why Book With Us?
What makes booking with Fresh Tracks Canada different?
Our commitment to making your trip an unforgettable experience
20 years of experience in travel
Intimate knowledge of Canada
Attention to every detail
Caring and creative people
Like This Trip?
Share it with your friends...
Subscribe
Start your lifelong love affair with Canada. Sign up for our monthly newsletter and get more of everything there is to love about this great country into your inbox.