Circle the Rockies by Train with Alaska Inside Passage Cruise
18

days from $5,209 per person
The 'Bear' Essentials
The wilderness of Alaska's inside passage and splendor of the Canadian Rockies await you on this incredible cruise and Canadian train vacation. First experience the breaching orcas, calving glaciers, and colorful historic towns of Alaska while enjoying Holland America's signature service. Then travel a full loop of the western Canadian Railway, discovering Whistler, Jasper, Lake Louise and Banff on the famous Rocky Mountaineer train.
What we love about this trip

• 7 nights aboard Holland America line's ms Zuiderdam
• Cruise the Inside Passage
• Glacier Bay
• 4 days on the spectacular Rocky Mountaineer train route
• Nights in the Canadian Rockies and Whistler
• Tours to explore Banff and Jasper National Parks


Itinerary

Day 1– Arrive in Vancouver, and embark on Alaska Cruise
Spend a morning enjoying Vancouver. This afternoon you board the grand ms Zuiderdam for a spectacular 7-day Alaskan cruise. The ms Zuiderdam welcomes you to a once in a lifetime experience of comfort and unforgettable sights. From the striking artwork around the ship to the ultra-courteous staff, the ms Zuiderdam is a home away from home.

Day 2 – Into the North – Cruise the Inside Passage from Canada to Alaska
Enjoy an entire day cruising the Inside Passage. Strolling along the deck you see rolling hills covered in trees, islands with small communities or none at all, whales taking the same refuge from the chopping waters beyond the islands and the odd fishing boat who scurries out of the ships way. Relax in the warmth of the ship or stay bundled up outside capturing the best photos of the day.

Day 3 – Into Port – Juneau, Alaska
Juneau is everything you would expect from an Alaskan capital city: small, surrounded by the most amazing wilderness, soaked in history and with a pace of its own. Hike in the Tongass National Forest or venture out onto the water (in a smaller vessel!) for whale watching or fishing. Wandering through the rustic shops in town is a great way to get to know Juneau on a more personal level. It's back to the ms Zuiderdam this afternoon for a delicious dinner served in the grand dining room.

Day 4 – Into Port – Skagway, Alaska
Step off the ship and back in time to the days of the Gold Rush. Over a century ago, men arrived on this very shore with only one thought, GOLD! Enjoy wandering along the wooden sidewalks, in and out of the many character shops. Visit the Trail of '98 Museum to get the complete picture of the Gold Rush days. This evening return to the comfort and warmth of the ms Zuiderdam.

Day 5 – Cruise Glacier Bay
Today is an exciting opportunity to sightsee from the decks of your ship. Glide along the calm waters of Glacier Bay a Biosphere Reserve and UNESCO World Heritage Site. This protected area is home to a distinct ecosystem of plants and animals all calling this glacial landscape home. Today is a chance to learn more about this beautiful icy environment and capture the perfect photograph of the impressive icebergs surrounding your ship.

Day 6 – Into Port – Ketchikan, Alaska
Ketchikan is an opportunity to learn more about Alaska's rich herritage. The Tlingit, Haida and Tsimshian were the first peoples to live on this land and their culture still flourishes. Home to the world's largest collection of totem poles, Ketchikan has a powerful spirit that you won't want to leave behind. Capture the moment with some spectacular photographs or bring home a mini totem pole of your own. The totem poles are not the only beauty to be found here; explore Creek Street and the Tongass Historical Museum. The natural surroundings are breathtaking. Here is a place to take in all the sights and sounds that make Alaska so special. Return to the ship for a relaxing evening.

Day 7 – Southbound – Cruise the Inside Passage from Alaska to Canada
Most people are only lucky enough to cruise the Inside Passage once in their lifetime. Today is your second opportunity to see this beautiful landscape. Be sure to catch everything you missed the first time!

Day 8 - Vancouver Arrival
Enjoy a delicious breakfast onboard the Zuiderdam, filled with Alaskan memories. The next part of your adventure is about to begin. Your vacation in Canada continues as you enjoy Vancouver after disembarking and spend the night.

Day 9 – Whistler Sea to Sky Climb
You feel right at home onboard Rocky Mountaineer's Whistler Train. You start the day off with the aroma of coffee and fresh orange juice as you relax in your modern train coach and wind along Canada's west coast. Wave to the locals as you wind your way along the Sea to Sky Corridor, and feel the mist on your face from the rushing water in the canyons below. On arrival at the Whistler train station, you will be transferred to the Squamish Lil'wat cultural Centre for a delicious BBQ lunch and a tour of the SLCC. Spend the rest of the afternoon enjoying Whistler.

Day 10 – Onboard the Rocky Mountaineer train – Whistler to Quesnel
Today your Canadian train vacation continues as you hear a lonesome wail sounds from the train's whistle and the smell of fresh cooking eggs and bacon wafts through your car. Over coffee you chat with old friends, and get caught up staring out the window at winding lakeshores and the desert-like Fraser canyon. As you unwind that evening, you can't help but wonder what new adventures you will find tomorrow during your holidays in the Canadian Rockies.

Day 11 – Onboard the Rocky Mountaineer – Quesnel to Jasper
This is the day of your vacation in Canada that you reach the breathtaking Canadian Rockies. Your first sight of the towering peaks is indescribable. You step off the train in Jasper and are overcome with the serenity of Canada's legendary mountains. You're on top of the Earth, far from the stresses at home, and ready to embrace the calmness of the Canadian Rockies.

Day 12 – Jasper Tour on your Canada Vacation
Today you set out on a scenic tour of Jasper, in the heart of the Rockies. During the tour you'll see the beauty of the surrounding lakes and rivers, learn about the unusual geology of eerie Maligne Canyon, and breathe in the sights of the Canadian Rockies.

Day 13 – Jasper to Lake Louise
Today on your Canada vacation, you travel along what is surely one of the most beautiful roads in the world - the Icefields Parkway. Stop to walk on the Athabasca Glacier and learn about its geology - and in late afternoon your guide brings you Lake Louise to spend the night.

Day 14 - Lake Louise to Banff
Today a half-day tour takes you into Yoho National Park to view
some of its natural wonders. Among the attractions are the Spiral Tunnels,
Emerald Lake and a natural rock bridge that spans the Kicking Horse River.
Aftewards, you will arrive in the lovely mountain town of Banff. Mingle with visitors from all over the world, and savor the lively atmosphere. Overnight in Banff.

Day 15 - Discover Banff
Fill your lungs with cool, fresh Rockies air! Explore the sleepy mountain town of Banff and it's surrounding areas. Visit intriguing heritage sites, stroll along the Bow River, or drink in the surreal mountain views from the peak of Sulphur Mountain. Overnight in Banff.

Day 16 - Onboard the Rocky Mountaineer – Banff to Kamloops
Your second journey onboard the Rocky Mountaineer begins today. There's a gentle pull as the train leaves Banff and the smell of breakfast wafts from the galley. The passing scenery is breathtaking; step out onto the outdoor viewing platform and feel the cool wind against your cheeks.

Day 17 - Canadian Rockies Train Adventure Continues – Kamloops to Vancouver
Back in your familiar seat on the Rocky Mountaineer train, you move from the arid interior of British Columbia to the coastal city of Vancouver and marvel at the diversity of the scenery you've seen during your Canadian train trip. Vancouver's personality is just the kind of last stop you need on your vacation in Canada.

Day 18 - Farewell to Canada


Today your rail and cruise adventure concludes, with fond memories and new friends made.

What's Included

Here are just a few of the things to look forward to on this trip...

Customize this trip a little... or a lot

Think of this itinerary as just a starting point. Work with us to personalize this trip by adding some amazing side trips & activities, like...
Accommodation Options
Below you'll find examples of this trip's accommodation options. Please call us for the full list or advice on how to customize your experience.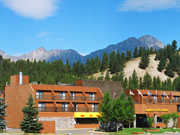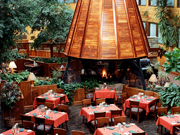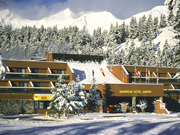 Sawridge Inn
An example of our RedLeaf accommodations
Jasper's Sawridge Inn is a favourite among travellers looking for understated luxury at affordable prices. Unwind in newly renovated rooms with marble bathrooms and take a dip in the large indoor pool.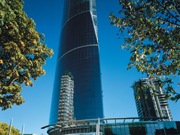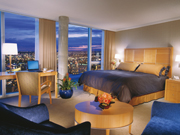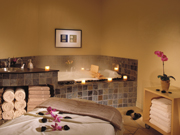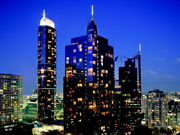 Sheraton Wall Centre
An example of our GoldLeaf accommodations
A visually-stunning hotel located in the heart of downtown. Enjoy great views through the floor to ceiling windows. Thoughtful extras include luxury bath amenities, and refreshment centers in every room.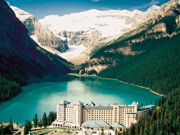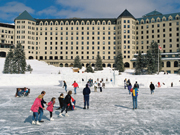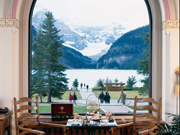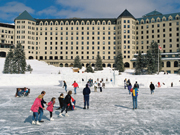 Fairmont Chateau Lake Louise
An example of our GoldLeaf Deluxe accommodations
The Fairmont Chateau Lake Louise is undoubtedly a beautiful and impressive hotel. Its amazing location overlooking beautiful Lake Louise and the distant mountains can not be compared. There are a variety of restaurant types, so you can do casual or fine dining as you choose. Strolling around the lake, renting a canoe, riding horses, or hiking up to the tea house are all great summer activities. In winter choose from snow shoeing, skating, skiing or taking a sleigh ride around the lake.
Prices & Dates
2013 start dates

Starts Vancouver
May 11 18 25
Jun 1 8 15 22 29
Jul 6 13
Aug 3 10 17 24 31
Sep 7 14


Below you'll find the prices for this trip. Make sure to give us a call to chat about your options.

• Prices are per person, and double means two people sharing a room. Please give us a call for single, triple, or child rates.
• RedLeaf Guests may upgrade to GoldLeaf service on the Rocky Mountaineer train for
$1838 USD per person
(includes portion from Vancouver to Whistler)

RedLeaf
USD$
Double
May 11, 2013
5,209
May 18, 2013
5,346
May 25 - Jun 01, 2013
6,104
Jun 08, 2013
6,167
Jun 15 - Aug 10, 2013
6,336
Aug 17, 2013
6,167
Aug 24 - Aug 31, 2013
6,104
Sep 07 - Sep 14, 2013
6,041
GoldLeaf
USD$
Double
May 11, 2013
8,188
May 18, 2013
8,383
May 25 - Jun 01, 2013
9,362
Jun 08, 2013
11,893
Jun 15 - Aug 10, 2013
9,730
Aug 17, 2013
9,541
Aug 24 - Aug 31, 2013
9,362
Sep 07 - Sep 14, 2013
9,236
GoldLeaf Deluxe
USD$
Double
May 11, 2013
8,646
May 18, 2013
8,867
May 25 - Jun 01, 2013
9,867
Jun 08, 2013
10,057
Jun 15 - Aug 10, 2013
10,236
Aug 17, 2013
10,057
Aug 24 - Aug 31, 2013
9,867
Sep 07 - Sep 14, 2013
9,241
Why Book With Us?
What makes booking with Fresh Tracks Canada different?
Our commitment to making your trip an unforgettable experience
20 years of experience in travel
Intimate knowledge of Canada
Attention to every detail
Caring and creative people
Like This Trip?
Share it with your friends...
Subscribe
Start your lifelong love affair with Canada. Sign up for our monthly newsletter and get more of everything there is to love about this great country into your inbox.