Canada Coast to Coast By Train
21

days from $6,703 per person
The 'Bear' Essentials
Experience the cosmopolitan cities of Vancouver and Toronto, the alpine charms of Banff, Jasper and Lake Louise in the magnificent Canadian Rockies, the delights of Quebec's Charlevoix region, and the picturesque coastal city of Halifax - on this ultimate version of our trans Canadian railway tours. Pause to wander the charming lanes of Old Montréal, sample Quebecois culture and cuisine as you stumble upon the hidden cafes. Discover a part of Canada that is both wonderfully Canadian and distinctly European.
What we love about this trip

• The ultimate trans-Canada train trip
• Unique, small group excursions
• 2 days on Rocky Mountaineer
• 4 nights aboard VIA Rail
• Luxury Charlevoix touring train in Quebec
• Scenic wonders: Lake Louise, Niagara Falls and the Atlantic Coast
• Choice of great hotels

Itinerary

Please note, like most of our Canada rail packages & tours, this railway vacation can be customized to your needs - just ask one of our local experts when you call.

Day 1 - Across Canada Train Vacation Begins – Arrive Vancouver
One of the most beautiful cities in the world, Vancouver is surrounded by mountains and ocean. Depending on your time of arrival, you can relax and dine al fresco, take a trip out to Stanley Park, or try one of the many tours on foot or bicycle. Overnight in Vancouver.

Day 2 - Sightsee in Vancouver
Today you have the choice to enjoy a sightseeing tour by bus of Vancouver's main highlights with a small group and guide, or take in a grand cycling tour of Vancouver and Stanley Park.

Spend the remainder of your day at your leisure. You can stroll the beaches of English Bay, whilst admiring misty gulf islands and snow capped mountains in the distance, or discover a secret garden in Chinatown. Overnight in Vancouver.

Day 3 - On the Rocky Mountaineer – Vancouver to Kamloops
A lonesome wail sounds from the Canadian Rockies railroad whistle, and the smell of your breakfast wafts from the galley, as the Rocky Mountaineer train leaves Vancouver on the first leg of its journey through the Canadian Rockies.

Over lunch you'll climb the steep Fraser Canyon, past the thundering water of Hell's Gate, and take a trip through the high desert of British Columbia's interior. Relax, chat, read, or stretch your legs on an outdoor viewing platform.

In late afternoon, the train arrives in Kamloops where you observe the lifestyle of locals in a small Rockies town. Overnight in Kamloops.

Day 4 – On the Rocky Mountaineer – Kamloops to Banff
The second day onboard the Rocky Mountaineer, anticipation builds over breakfast for your first sighting of the high peaks of the Canadian Rockies. Along the way you'll learn about the history of the Canadian Rockies, and the railroad, keep your eyes peeled for elk, bald eagles and bears.

Finally you enter the famous Spiral Tunnels - ascending slowly, round and round through the darkness, until, blinking, you emerge to find yourself high in the Canadian Rockies, surrounded by mighty peaks topped with snow. Overnight in Banff.

Day 5 - The Famous Canadian Rockies - Banff
Fill your lungs with cool, fresh Canadian air! Today enjoy a change of pace on your Rockies train trip. Explore the sleepy mountain town of Banff on a guided tour and drink in the views of the surrounding national parks from the summit of Sulphur Mountain.

The lofty peak is reached by a gondola swinging beneath the cable far above the valley floor and surrounded by jagged Canadian Rockies peaks, with the Bow River glistening in the distance Overnight in Banff.

Day 6 – Deeper into the Rockies – Banff to Lake Louise
Wind your way along mountain roads from Banff to Lake Louise this morning. The grand finale is a highlight of your Canadian Rockies train trip - the turquoise water of Lake Louise, surrounded by glaciers tumbling down from the high peaks. Ask us to arrange an additional excursion, such as a gentle guided canoe paddle, guided walking or high tea in the Fairview dining room of the Fairmont Chateau Lake Louise.

Day 7 - The Icefields Parkway - Lake Louise to Jasper
Travel through the heart of the Canadian Rockies today, to discover spectacular glaciers, cascading waterfalls, turquoise lakes, alpine meadows, and vast mountain valleys. Your chance for seeing wildlife is enhanced by your small group tour, giving your guide the ability to explore spots only possible in a smaller touring vehicle. Stop at the Columbia Icefield where you venture aboard the Ice Explorer onto the 6 kilometer long Athabasca Glacier. A picnic lunch is included. Overnight in Jasper.

Day 8 - Maligne Lake tour and cruise / Canadian Train Journey East – onboard the Canadian Train
This morning the natural beauty of the Rockies is right outside your window as you take a guided tour through one of the National Park's most spectacular areas. Marvel at the Maligne River as it thunders through the canyon in a series of waterfalls. Learn how Medicine Lake is "mysteriously" disappearing before boarding a narrated cruise on Maligne Lake, bound for serene Spirit Island.

This afternoon you are transferred to the train station where a cozy cabin with a large picture window and seats that become a comfortable nighttime bed awaits you on Via Rail's - the Canadian train. Your across Canada train vacation continues as you leave the Rockies and slowly glide into the Canadian prairies.

Days 9 & 10 – Canadian Train Journey East – onboard the Canadian
The scenery changes once as you travel across the undulating plain of the Prairie Provinces. Settle into your seat and enjoy watching the sights from your window. The rich yellows and golds of the prairies are illuminated in the sunlight. In the distance you spot a lone red barn surrounded by a decrepit wooden fence which strikes you as uniquely beautiful. Who knew such flat land could be so stunning?

Day 11 - Arrive in Toronto and tour the city
Spend a day enjoying the quaint and colorful neighborhoods that Toronto is famous for. A hop on hop off tour ensures you won't miss any of the main city attractions. You can also enjoy a cruise on Lake Ontario, for a unique perspective on the charming Toronto Islands. Overnight in Toronto.

Day 12 - Witness the power of Niagara Falls
First thing this morning, join a guide to see one of the great natural wonders of the world - Niagara Falls. The Maid of the Mist takes you close enough to the falls to feel the spray on your face, the thundering sound gets louder and louder and you're thankful for your poncho. Nearby Niagara-on-the-Lake is a charming Canadian town, and the perfect place to unwind on your vacation. Overnight in Toronto.

Day 13 - A new Canadian culture awaits on your Across Canada train trip – Montreal
The Corridor train carries you into the next province of Canada – Quebec! Train travel is the most scenic route you can take in Canada. Enjoy the views along the shore of Lake Ontario, the open farmland of rural Quebec and the shore of the St. Lawrence River. Overnight in Montreal.

Day 14 - Montreal tour – a piece of French Canadian culture
Today you travel through the depths of Montreal's history on a guided tour. Step back in time at the gorgeous Notre Dame Basilica, explore the old Bonsecours Market, and savor the anecdotes of your guide as you gaze across the city from Mont Royal Park. Overnight in Montreal.

Day 15 – Montreal to Quebec City
Travel a short distance by train through Quebec's picturesque countryside as your across Canada train vacation heads towards Quebec City. After pickup from the train station, step into Quebec City's colorful history as you visit authentic Quebecois shops, and discover the pride that the residents feel for their city.

Day 16 - Train journey into the countryside of Quebec
Board the Charlevoix touring train and wind your way along the coast of the St. Lawrence River, on a new luxury train tour known for it's culinary delights. Mountains and forests are sprinkled with charming artisan villages, while the mighty St. Lawrence stretches beyond sight. Keep your eyes open for beluga whales, who commonly make appearances for our guests! Spend a delightful few hours enjoying the charming artisan village of Baie St. Paul, before a return journey back to Quebec City. Overnight in Quebec City.

Day 17 - Explore Quebec City's culture then board VIA Rail's Ocean train -
Spend a full day discovering Quebec City's French Canadian culture. Marvel at the beautiful architecture of the fortified city, visit historic sites commemorating the battles between French and English, and enjoy a delightful sightseeing tour to experience this unique city. This evening you will be transferred to Charny where you will board VIA Rail's Ocean train. Travel past rolling hills, and quaint coastal villages that appear from times long past as you make your across Atlantic Canada.

Day 18 – Arrive in Halifax
This morning, relax in the panoramic dome car and count the sails out on the water. Late this afternoon you will glide into Halifax and transfer to your hotel. Explore the welcoming Celtic atmosphere of the Canadian Maritimes' largest city. Overnight in Halifax.

Days 19 and 20 - Discover Halifax & Nova Scotia
After a day to immerse yourself in the lively waterfront of Halifax, you will join a small group and local guide to explore Nova Scotia's coastal gems. Depending on the day of the week, you will visit Peggy's Cove, the small towns and vistas of the South Shore, or witness the reversing tides of the Bay of Fundy from Hall's Harbor. Overnight in Halifax.

Day 21 - Across Canada Train Vacation Ends


Much too soon your across Canada train vacation comes to an end as you leave the fresh air and colourful sights of Canada behind.

What's Included

Here are just a few of the things to look forward to on this trip...

Customize this trip a little... or a lot

Think of this itinerary as just a starting point. Work with us to personalize this trip by adding some amazing side trips & activities, like...
Accommodation Options
Below you'll find examples of this trip's accommodation options. Please call us for the full list or advice on how to customize your experience.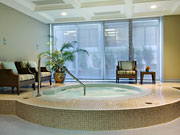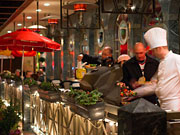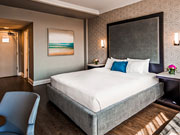 Georgian Court Hotel
An example of our Comfort accommodations
The Georgian Court Hotel features 180 guestrooms in a 12-story brick building, in the heart of downtown Vancouver. Enjoy a comfortable sleep in your elegant room, surf the internet with the complimentary wireless, or enjoy a meal on the seasonal patio.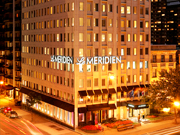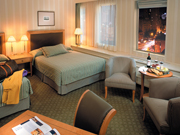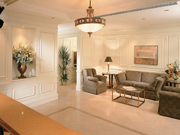 Le Meridien Versailles-Montreal
An example of our Superior accommodations
Step into an art gallery, or at least that is what it feels like, when you enter the Meridien Versailles. The artwork is something the Meridien holds as a unique selling proposition. It's all local art and it is changed every 3 months. When they do change the art, they do a mini gallery opening in the lobby and all the guests are invited. Large bright, and unique are 3 words used to describe this hotel.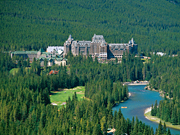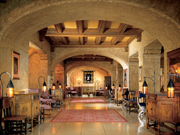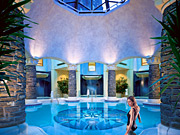 Fairmont Banff Springs
An example of our Deluxe Plus accommodations
Styled after a Scottish Baronial Castle, The Fairmont Banff Springs is located in the heart of Banff National Park, a UNESCO World Heritage Site. Enjoy one of the many activities that the hotel has to offer from tennis, horseback riding, a round of golf, skiing, relaxing at the the Willow Stream Spa (charge), or enjoying a great meal at one of 12 restaurants, lounges or pubs.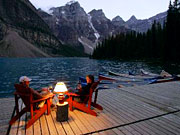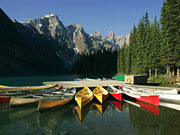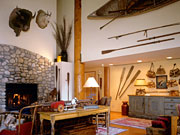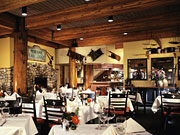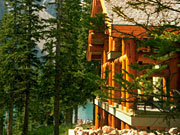 Moraine Lake Lodge
An example of our Luxury Mountain Lodge accommodations
Ask our vacation planners about customizing your trip, to stay in some of our more secluded, intimate, and unique wilderness lodges. First class service, gourmet cuisine, and luxurious accommodations are combined with rustic ambiance in a stunning setting. Step out of your doorway for a morning hike, then relax on your patio sipping wine, gazing at the reflection of snow capped peaks on pristine mountain lakes. Here, the only noise is the whispering of pines and the calls of alpine birds.
Prices & Dates
2013 Dates starting in Vancouver

May 1, 8, 15, 22, 29
June 5, 12, 19, 26
July 3, 10, 17, 24
August 7, 14, 21, 28
September 4, 11, 18, 25


Below you'll find the prices for this trip. Make sure to give us a call to chat about your options.

• Prices are per person, and double means two people sharing a room. Please give us a call for single, triple, or child rates.
• Comfort, Superior, Deluxe, and Deluxe Plus refer to the type of hotel accommodations
• RedLeaf, GoldLeaf, and SilverLeaf refer to the type of train service on the Vancouver - Banff portion of the journey.


Rocky Mountaineer Train Upgrade Options:*

• Upgrade price, for comfort guests to upgrade from RedLeaf to SilverLeaf train service is $578 USD (May) and $526 USD (June - September)
• Upgrade price, for comfort guests to upgrade from RedLeaf to GoldLeaf train service is $947 USD
• Upgrade price, for Superior guests to upgrade from SilverLeaf to GoldLeaf train service is $368 USD (May) and $421 USD (June - September)
* Prices are per person


Upgrade to Business Class on the Corridor train:

* Comfort guests may upgrade from economy to business class on the Corridor train for $200 USD per person, for access to the business class lounge at the train stations, priority boarding, seats in the business class cars, and delicious meals with wine.

RedLeaf Train Service &
Comfort Hotels
USD$
Double
May 01 - May 22, 2013
6,703
May 29, 2013
7,720
Jun 05 - Jun 19, 2013
8,036
Jun 26 - Sep 25, 2013
8,745
SilverLeaf Train Service &
Superior Hotels
USD$
Double
May 01 - May 22, 2013
8,305
May 29, 2013
9,308
Jun 05 - Jun 19, 2013
9,547
Jun 26 - Sep 25, 2013
9,958
GoldLeaf Train Service &
Deluxe Hotels
USD$
Double
May 01 - May 22, 2013
9,812
May 29, 2013
11,060
Jun 05 - Jun 19, 2013
11,311
Jun 26 - Sep 25, 2013
12,537
GoldLeaf Train Service &
Deluxe Plus Hotels
USD$
Double
May 01 - May 22, 2013
14,204
May 29, 2013
14,999
Jun 05 - Jun 19, 2013
15,482
Jun 26 - Sep 25, 2013
17,070
Why Book With Us?
What makes booking with Fresh Tracks Canada different?
Our commitment to making your trip an unforgettable experience
20 years of experience in travel
Intimate knowledge of Canada
Attention to every detail
Caring and creative people
Like This Trip?
Share it with your friends...
Subscribe
Start your lifelong love affair with Canada. Sign up for our monthly newsletter and get more of everything there is to love about this great country into your inbox.