East Meets West Train Explorer

5 of 5 stars (4 reviews)
The 'Bear' Essentials
Traveling across Canada is a dream - and what better way to do it than with the convenience and comfort of train travel? Combine a cross country overnight journey with the luxury of Rocky Mountaineer's daylight sightseeing train and you will be surrounded by spectacular scenery for the entire length of your vacation. The East Meets West Rail Adventure gives you a complete introduction to Canada in just over a week.
What we love about this trip

• Overnight train trip across Canada with VIA Rail
• Rocky Mountaineer's scenic daylight rail journey
• The Canadian Rockies & the glaciers of the Icefields Parkway
• Rocky Mountain towns of Banff & Jasper

Itinerary

Please note, like most of our Canada rail packages & tours, this railway vacation can be customized to your needs - just ask one of our local experts when you call.

Day 1 - Your Across Canada Train Adventure Begins – Arrive Toronto
The sounds of Canada's largest city welcome you as you arrive in downtown Toronto. Couples hurry along the sidewalk, rushing to one of Toronto's big stage productions. A woman quickly shifts all her shopping bags to one arm as she raises a hand to hail a cab, and the smell of Chinese food makes you salivate as a delivery boy bikes along the street in front of you. Toronto beckons and you're anxious to get out and explore this fresh Canadian city.

Day 2 - Toronto Tour / Via Rail's The Canadian – Toronto to Jasper
Before heading off to the Rockies on tonight's train, you have the morning to enjoy a Toronto city tour. Highlights include the CN Tower, SkyDome, Casa Loma, Queens Park and Chinatown to name a few.

This evening, you're on your way to the great Canadian Rockies! The overnight train across Canada between Toronto and Jasper is an incredible rail journey that takes 3 full days. Leave the picturesque lakelands of Northern Ontario behind, as you travel west to Jasper.

Day 3 & 4 - Canadian Rail Journey to the West – Onboard the Canadian Train
The scenery changes once again as you travel across the undulating plain of the Canadian prairie provinces. Settle into your seat and enjoy watching the sights from your window. This is the second and third day and night of your across Canada rail journey.



Day 5 - Enter Canada's Rocky Mountains – Arrive in Jasper


Step off the Canadian train and take a deep breath – the crisp mountain air is invigorating. You are completely surrounded by mountains and trees. You look to your left and see a downtown gas station with a snow topped mountain peak standing proudly in the distance behind it. Jasper is summed up in that one view. It's a town with all the modern touches, but the splendor of the Canadian Rockies is never out of your thoughts.



Day 6 - Icefields Parkway Tour - Jasper to Banff


Travel the Icefields Parkway through the natural splendour of Jasper and Banff National Parks, with a small group and an experienced guide. Glistening glaciers, cascading waterfalls, emerald lakes, pristine rivers and alpine meadows dot this awe-inspiring mountain wilderness. The breathtaking panorama of snow-capped peaks and endless mountain ridges occasionally opens up to afford a spectacular view of deep valleys stretching to a distant horizon. The tour stops at the Columbia Icefield where you will venture onto the massive Athabasca Glacier in a specially designed Ice Explorer. Other brief sightseeing stops include an opportunity to photograph the turquoise waters of picturesque Lake Louise are made throughout the tour. A picnic lunch and an Ice Explorer ride are included.

Day 7 - Banff Tour


Enjoy an intimate tour through the towering mountains of Rundle, Tunnel, Cascade, and Norquay while learning about the natural attractions such as the wind shaped Hoodoos and Johnstone Canyon. Surprise Corner along Tunnel Mountain Drive delivers a breathtaking view of the valley without comparison, while an ascent by gondola to the summit of Sulphur Mountain reveals endless mountain ranges and rivers sparkling in the distance. Take as much time as you like up here, before returning to your hotel.



Day 8 - Onboard the Rocky Mountaineer to Kamloops
Travel onboard the Rocky Mountaineer from the mountain town of Banff to Kamloops in the heart of British Columbia's interior. Your journey offers you a spectacular range of scenery as you travel between the high peaks of the Canadian Rockies, over mountain passes and through remarkable tunnels, along rocky lakeshores and across the ranchlands of the interior. Today's highlights include the Continental Divide, the Spiral Tunnels, the Kicking Horse Canyon, Rogers Pass, Craigellachie where the last spike of the Canadian Pacific Railway was driven, and of course the glaciers and snow-capped peaks of the Canadian Rockies. Overnight in Kamloops.

Day 9 - Onboard the Rocky Mountaineer train Vancouver Arrival
Your journey continues west towards the Pacific Ocean and the coastal Canadian city of Vancouver. On today's journey you will again see dramatic changes in scenery, from the desert-like environment of the interior, through the winding river canyons and pristine forests, to the Coast and Cascade Mountains and the lush green fields of the Fraser River Valley. Highlights include the steep slopes and rock sheds along the Thompson River and the rushing waters of Hell's Gate in the Fraser Canyon. Your rail journey ends on arrival in Vancouver this evening. Overnight in Vancouver.



Day 10 - With Fond Memories Made – Depart


Today you leave the fresh air and colorful sights of Canada behind as your across Canada train vacation comes to an end.

What's Included

Here are just a few of the things to look forward to on this trip...

Customize this trip a little... or a lot

Think of this itinerary as just a starting point. Work with us to personalize this trip by adding some amazing side trips & activities, like...
Accommodation Options
Below you'll find examples of this trip's accommodation options. Please call us for the full list or advice on how to customize your experience.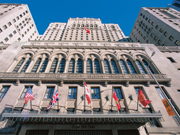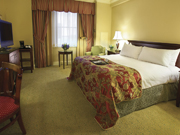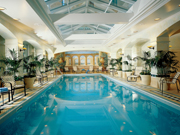 Fairmont Royal York
An example of our Deluxe accommodations
Another of the original historic Fairmont properties, close to shopping and dining, and just steps to Union Station and the theatre district. The hotel features 5 restaurants, a bar, a health club, and shops.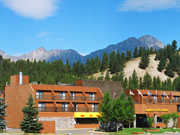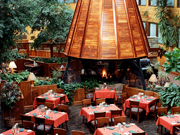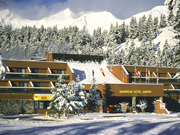 Sawridge Inn
An example of our Comfort accommodations
Jasper's Sawridge Inn is a favourite among travellers looking for understated luxury at affordable prices. Unwind in newly renovated rooms with marble bathrooms and take a dip in the large indoor pool.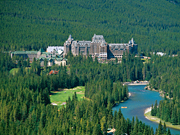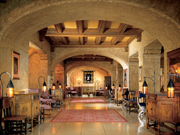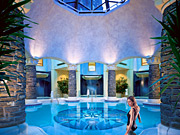 Fairmont Banff Springs
An example of our Deluxe Plus accommodations
Styled after a Scottish Baronial Castle, The Fairmont Banff Springs is located in the heart of Banff National Park, a UNESCO World Heritage Site. Enjoy one of the many activities that the hotel has to offer from tennis, horseback riding, a round of golf, skiing, relaxing at the the Willow Stream Spa (charge), or enjoying a great meal at one of 12 restaurants, lounges or pubs.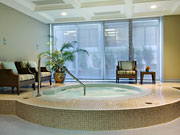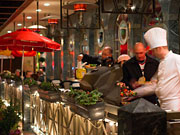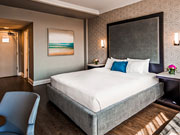 Georgian Court Hotel
An example of our Comfort accommodations
The Georgian Court Hotel features 180 guestrooms in a 12-story brick building, in the heart of downtown Vancouver. Enjoy a comfortable sleep in your elegant room, surf the internet with the complimentary wireless, or enjoy a meal on the seasonal patio.
Prices & Dates
2014 Start dates - from Toronto
May 7, 14, 21, 28
June 4, 11, 18, 25
July 2, 9, 16, 23
August 6, 13, 20, 27
September 3, 10

2014 Start dates - from Vancouver

May 1, 4, 8, 11, 15,18, 22, 25, 29
June 1, 5, 8, 12, 15, 19, 22, 26, 29
July 3, 6, 10, 13, 17, 20, 24, 27
August 7, 10, 14, 17, 21, 24, 28, 31
September 4, 7, 11, 14, 17


*Note: If starting in Vancouver, your trip includes 2 nights in Jasper - please inquire for exact trip pricing from Vancouver

Below you'll find the prices for this trip. Make sure to give us a call to chat about your options.

• Prices are per person, and double means two people sharing a room. Please give us a call for triple or child rates.
• RedLeaf, SilverLeaf and GoldLeaf refer to the type of train service on the Banff - Vancouver portion of the journey.
• Comfort, Superior, Deluxe, and Deluxe Plus refer to the hotel accommodations

RedLeaf Train Service &
Comfort Hotels
USD (per person)
Double
Single
May 1 - May 21, 2014
4,050
4,988
May 28 - Jun 5, 2014
4,729
5,970
Jun 8 - Sep 17, 2014
5,373
6,624
SilverLeaf Train Service &
Superior Hotels
USD (per person)
Double
Single
May 1 - May 21, 2014
5,042
6,307
May 28 - Jun 5, 2014
5,646
7,175
Jun 8 - Sep 17, 2014
6,373
7,960
GoldLeaf Train Service &
Deluxe Hotels
USD (per person)
Double
Single
May 1 - May 21, 2014
6,033
7,743
May 28 - Jun 5, 2014
6,915
9,090
Jun 8 - Sep 17, 2014
7,757
10,043
GoldLeaf Train Service &
Deluxe Plus Hotels
USD (per person)
Double
Single
May 1 - May 21, 2014
8,429
12,867
May 28 - Jun 5, 2014
9,367
16,051
Jun 8 - Sep 17, 2014
10,099
15,220
SilverLeaf Upgrade for Comfort Guests
USD (per person)
Double
Single
May 1 - Sep 17, 2014
526
526
GoldLeaf Upgrade for Comfort Guests
USD (per person)
Double
Single
May 1 - Sep 17, 2014
947
947
GoldLeaf Upgrade for Superior Guests
USD (per person)
Double
Single
May 1 - Sep 17, 2014
421
421
Customer Reviews & Testimonials
What Clients Say
It could not have been better! I will recommend you to everyone!

" First if all, the absolute best part about our trip was all the arrangements you made. Everything was perfect - all limos were great and on time, hotels were wonderful (especially the Sutton Place and Rim Rock) and of course the trains (especially the Rocky Mountaineer). At Lake Louise we were upgraded...
Why Book With Us?
What makes booking with Fresh Tracks Canada different?
Our commitment to making your trip an unforgettable experience
20 years of experience in travel
Intimate knowledge of Canada
Attention to every detail
Caring and creative people
Like This Trip?
Share it with your friends...
Subscribe
Start your lifelong love affair with Canada. Sign up for our monthly newsletter and get more of everything there is to love about this great country into your inbox.