Canadian Rockies Golf and Spa by Rail
9

days from $5,472 per person
The 'Bear' Essentials
We are particularly proud of this itinerary because it has the best of the best. It is designed for golfers and those who like to travel with golfers. Whatever your taste, this inspired Canadian golf, spa and rail itinerary is the perfect antidote to a stressful job and hectic life. Escape the city and travel by elegant train through dense forest, alongside turquoise lakes, and high up mountain ridges. The refined experience of luxury train travel is total comfort matched with unparalleled panoramic views of the beauty of the Canadian Rockies. Stepping off the train is even more of a treat, as in each refreshing and charming resort town is a hidden gem – your choice of a round of world-class golf on greens with spectacular views, or luxurious pampering at five-star spas. Whether you choose to putt or pamper, fine dining and luxury accommodation are the icing on the cake.
What we love about this trip

• Rocky Mountaineer's scenic 2-day rail journey
• Choose from rounds of Golf in Whistler, Jasper and Banff or 3 revitalizing and relaxing Spa - sessions or both
• 7 nights in the Canadian Rockies

Itinerary

(Please note, like most of our Canada rail packages & tours, this railway vacation can be customized to your needs - just ask one of our local experts when you call.)


Day 1 – Your Canada train trip begins - welcome to Vancouver
Vancouver is a delight – a modern oasis of restaurants, shopping, and cultural activities nestled in the spectacular scenery of dramatic mountain ranges plunging into the Pacific Ocean. This is a city that boasts Stanley Park; a town dubbed 'Hollywood North', and a place that heads the list of the world's 'most desirable' places to live. So grab a coffee and stop at a sidewalk café to watch the world go by.

Unwind in the evening at the Fairmont Waterfront hotel with the comforts of its opulent elegance. Indulge in any of the signature restaurants just steps away, wander the streets of cafes and shops lively throughout the evening, or take a moment to relax at the harbor side with its panoramic views of the water, forest, and mountains. Overnight in Vancouver.

Day 2 – All aboard from Sea to Sky - the Whistler Mountaineer train
Step aboard the newest addition to the world-class Rocky Mountaineer's line of luxury Canadian Rockies trains, the Whistler Mountaineer and the Sea to Sky Climb. Start the day in style with rich coffee and a breakfast served in elegance at your seat, as you begin to wind your way along the shores of Howe Sound.

Relaxing in your reclining seat, or perhaps taking advantage of the cool breeze afforded by the open air heritage observation car, take in the spectacular scenery of lush green mountains topped with snowy peaks that rise from the water just a few feet away.

Soon you arrive in Whistler - a famous mountain resort full of natural wonders - with glaciers, alpine meadows, turquoise lakes, and walking trails to explore. Check into the elegant Fairmont Whistler hotel with its fine dining, pool, and perfectly refined setting before exploring the village. Overnight in Whistler.

Day 3 – Golf or Spa on your Canada train trip – Whistler
Arise this morning, rejuvenated and ready for the perfect day of walking the greens or letting go in total relaxation.

If Holes-in-One are on your mind, take to the links at your choice of world class golf courses - Chateau Whistler golf course, Nicklaus North, or Whistler Gold Club golf course.

Prefer to spend your day being pampered? A 60-minute classic massage at the Vida Wellness spa is sure to soothe away any tension. Consider exploring Whistler Village with its excellent shopping, dining, sightseeing, and lounging opportunities. Overnight in Whistler.

Day 4 – Onboard the Rocky Mountaineer – Whistler to Quesnel
You may be reluctant to leave behind the luxurious comfort of your Whistler escape, but today's rail journey is sure to entice. Departing Whistler in the morning, the Canadian Rockies train will wind its way north and east through some of the most spectacular scenery in the world.

While drinking in this breathtaking landscape, every desire will be accommodated with delicious meals, friendly service, and expert interpretative narration of the region's most delightful highlights. In order to maximize this once-in-a-life time luxury Canada train trip and its incredible views, all travel is done by daylight so you will make your bed in comfortable and scenic Quesnel.

Day 5 – Onboard the Rocky Mountaineer – Quesnel to Jasper
It might be hard to believe it possible, but today's scenery may surpass yesterday's, with the breathtaking arrival of the Canadian Rockies. The forest in this region is thick, lush, and home to all sorts of lively creatures – so be sure to keep an eye trained on the window to catch a lonely moose or wandering bear.

Step off the train in Jasper and into the embrace of these natural gems. You're on top of the Earth, far from the stresses of home, and with the Canadian wilderness surrounding you and luxury awaiting, you're truly at ease. The luxurious experience of the Fairmont Jasper Park Lodge awaits upon check-in as you're welcomed to the Grand Canadian lodge experience. Overnight in Jasper.

Day 6 – In the Canadian Rockies - Golf or Spa in Jasper?
If the skies are blue and the green is calling, step onto the Fairmont Jasper Park Lodge's famous golf course and start working on your game. Don't let the challenge of playing in the scenery of the Canadian Rockies affect your swing!

Another way to relax is the Insignia Spa's deluxe Beauvert Package which includes a 60-minute massage, a manicure, and a pedicure.

However you spend the day, spend the night tantalizing your taste buds with the world-class and regionally sourced cuisine of the area. Overnight in Jasper.

Day 7 - Canadian Rockies - the Icefields Parkway from Jasper to Banff
Today you board a luxury bus to take you along one of the most spectacular drives in the world - south down the spine of the Canadian Rockies on the Icefields Parkway. This scenic highway offers unsurpassed views of the Canadian Rockies. An expert guide on-board will give you added insight into the wilderness. A stop at the Athabasca Glacier includes a 'snocoach' ride on to the glacier itself - a fascinating insight into the geography of the Canadian Rockies.

A detour to Lake Louise is a photographer's delight – a clear, shimmering turquoise glacial lake surrounded by some of the most majestic mountains in the world. Lake Louise is like nowhere else.

Then continue on to the capital of the Canadian Rockies - the bustling yet beautiful mountain town of Banff. Perhaps tonight explore the excellent restaurants and fascinating boutiques of the town before retiring to the luxurious Fairmont Banff Springs Resort for your overnight stay.

Day 8 – In the Canadian Rockies - Golf or Spa in Banff?
Banff is considered by many to be the gem of any Canadian Rockies vacation, and, after today, you may be tempted to agree.

Another round of golf or spa treatment is the way to spend the day today, taking in the majestic mountains of the Canadian Rockies. The sense of natural calm contributes to the soothing atmosphere of the 18-hole Stanley Thompson golf course – the perfect place to lower your handicap. You'll feel as fresh and beautiful as your wilderness surroundings if you choose a Seasonings Bath, Scrub & Massage package which will be tied to the time of season you visit Banff.

Day 9 – Far too soon your Canadian train vacation ends - Banff to Calgary Airport
Filled with memories of your Canada train trip and the Canadian Rockies, you bid farewell to the Rockies and gradually descend through the foothills by luxury private vehicle, arriving in Calgary in time for your flight. Yet you leave with wonderful memories to revisit and cherish for a lifetime.

Bon Voyage!


What's Included

Here are just a few of the things to look forward to on this trip...

Customize this trip a little... or a lot

Think of this itinerary as just a starting point. Work with us to personalize this trip by adding some amazing side trips & activities, like...
Accommodation Options
Below you'll find examples of this trip's accommodation options. Please call us for the full list or advice on how to customize your experience.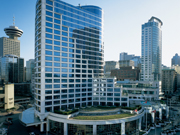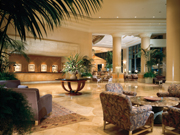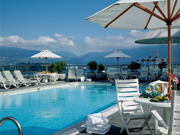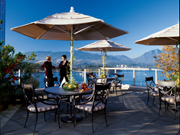 Fairmont Hotel Waterfront
An example of our Deluxe accommodations
This luxury hotel is located in Vancouver's inner harbour, minutes from Canada Place, the cruise ship terminals and gastown. Sit back and relax in your room as you watch floatplanes take off and land right in front of you with the beautiful north shore mountains as your backdrop. Plus you have the luxurious common amenities that come with staying at any Fairmont hotel.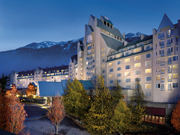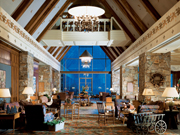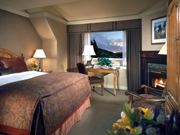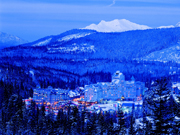 Fairmont Chateau Whistler
An example of our Deluxe accommodations
All the class and luxury of the famous Fairmont hotels with the beautiful mountain scenery of Canada's number one ski resort. With rustic antiques, handmade rugs, inviting overstuffed sofas and wooden beam construction, the hotel lobby recreates the air of a relaxing country retreat. Rooms are equally warm and inviting with rustic decor and stunning views of the snow covered Mountains. The Mallard Lounge cannot be missed with its grand outdoor slope side fire pits.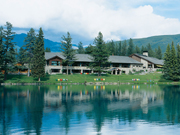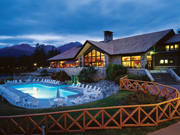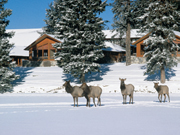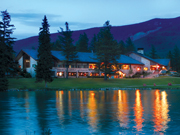 Fairmont Jasper Park Lodge
An example of our Deluxe Lodge accommodations
The Fairmont Jasper Park Lodge is it's own Canadian wilderness resort. The property is made up of many buildings with different room types throughout the resort. Relax by the lake, or enjoy a round of golf on the beautiful Stanley Thompson Golf Course, or enjoy a game of ice hockey on the lodge's pond. Be sure to keep your eyes open for Elk as they walk past your building!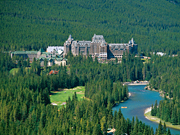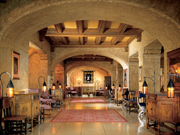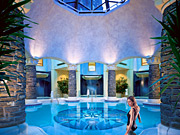 Fairmont Banff Springs
An example of our Deluxe Plus accommodations
Styled after a Scottish Baronial Castle, The Fairmont Banff Springs is located in the heart of Banff National Park, a UNESCO World Heritage Site. Enjoy one of the many activities that the hotel has to offer from tennis, horseback riding, a round of golf, skiing, relaxing at the the Willow Stream Spa (charge), or enjoying a great meal at one of 12 restaurants, lounges or pubs.
Prices & Dates
2013 Start dates

Starts in Vancouver:
May 17, 24, 31
June 7 14 21 28
July 5 12 19 26
Aug 9 16 23 30
Sept 6 13 20

Starts in Calgary:
May 11 18 25
June 1 8 15 22 29
July 6 13 20 27
Aug 10 17 24 31
Sept 7 14


Canadian Rockies train trip price notes

• Prices are per person
• Double means two people occupying a room
• Prices include GoldLeaf service on the Rocky Mountaineer train, from Vancouver - Whistler - Jasper

• Choose from three options
1. Both guests play Golf only
2. One guest golfs and one guest takes the spa treatments
3. Both guests play golf and take the Spa treatments
• Alternatively we can tailor a package specifically to your tastes



Both guests golf only
USD$
Double
May 11 - May 18, 2013
5,472
May 24 - May 25, 2013
5,890
May 31 - Sep 20, 2013
6,711
One guest golf / one guest spa
USD$
Double
May 11 - May 18, 2013
5,651
May 24 - May 25, 2013
6,030
May 31 - Sep 20, 2013
6,791
Both guests golf and spa
USD$
Double
May 11 - May 18, 2013
6,362
May 24 - May 25, 2013
6,799
May 31 - Sep 20, 2013
7,633
Why Book With Us?
What makes booking with Fresh Tracks Canada different?
Our commitment to making your trip an unforgettable experience
20 years of experience in travel
Intimate knowledge of Canada
Attention to every detail
Caring and creative people
Like This Trip?
Share it with your friends...
Subscribe
Start your lifelong love affair with Canada. Sign up for our monthly newsletter and get more of everything there is to love about this great country into your inbox.