Circle the Canadian Rockies by Train
12

days from $3,999 per person
The 'Bear' Essentials
The Canadian Rockies Grand Rail Circle Tour allows you to not only experience the different rail journeys onboard Rocky Mountaineer but also see all of the Canadian Rockies and even the British Columbia's beautiful interior. You will experience both the Whistler Mountaineer train & the Rocky Mountaineer train as you travel by rail through Whistler, Jasper, Banff & Vancouver - and the scenery is varied in each direction, with some of the most magnificent scenery in the world.
What we love about this trip

• Vancouver, Whistler, Banff and Jasper National Parks
• 4 days aboard the Rocky Mountaineer
• The Whistler Mountaineer
• 5 days of Canada train travel
• Wide range of optional activities

Itinerary

Please note, like most of our Canada rail packages & tours, this railway vacation can be customized to your needs - just ask one of our local experts when you call.

Day 1 – Begin your Canadian Train Trip – Arrive in Vancouver
You can't help but begin to unwind as your vacation in Canada begins in the west coast city of Vancouver. Surrounded by mountains and ocean, the air is fresh, the ambiance cool, and the locals are friendly. Explore Vancouver at your own pace, stopping at a sidewalk café to watch the world go by. Ask us to arrange one of the city tours available; or if you prefer independent travel, explore the city on bicycle or foot.

Day 2 – Whistler Sea to Sky Climb
You feel right at home onboard Rocky Mountaineer's Whistler Train. You start the day off with the aroma of coffee and fresh orange juice as you relax in your modern train coach and wind along Canada's west coast. Wander out to the open air observation car for your first taste of the fresh mountain air and breathtaking sights that await you on your Canadian Rockies train adventure.

Day 3 - Enjoy Whistler
The days is yours to enjoy beautiful Whistler. Get a broader view of Whistler's stunning scenery with your peak to peak Gondola pass, where you can take a stroll through alpine meadows, full of wildflowers and framed by vast mountain ranges. Overnight in Whistler.

Day 4 – Onboard the Rocky Mountaineer – Whistler to Quesnel
Today your Canadian train vacation continues as you hear a lonesome wail sounds from the train's whistle and the smell of fresh cooking eggs and bacon wafts through your car. Over coffee you chat with old friends, and get caught up staring out the window at winding lakeshores and the desert-like Fraser canyon. As you unwind that evening, you can't help but wonder what new adventures you will find tomorrow during your holidays in the Canadian Rockies.

Day 5 – Onboard the Rocky Mountaineer – Quesnel to Jasper
This is the day you've been waiting for – the day you reach the breathtaking Canadian Rockies. Your first sight of the towering peaks is indescribable. You step off the train in Jasper and are overcome with the serenity of Canada's legendary mountains. You're on top of the Earth, far from the stresses at home, and ready to embrace the calmness of the Canadian Rockies.

Day 6 – Jasper Tour
Today you set out on a scenic tour of Jasper, in the heart of the Rockies. During the tour you'll see the beauty of the surrounding lakes and rivers, learn about the natural history of Canada's west coast, and breathe in the sights of the Canadian Rockies. A cruise on Maligne Lake will finish off this great tour.

Day 7 – Jasper to Lake Louise
Today you travel by coach along the spine of the Rockies on what is surely one of the most beautiful roads in the world - the Icefields Parkway. Stop to walk on the Athabasca Glacier and learn about its geology - and in late afternoon your Canada train trip brings you to the stunningly beautiful Lake Louise for your overnight stay.

Day 8 - Lake Louise to Banff
After enjoying Lake Louise, meander your way with a guide along mountain valleys to Banff - a lively mountain town with great restaurants and a low-key cowboy atmosphere. Enjoy strolling Banff Avenue or try one of the numerous outdoor adventures offered in this outdoor playground. Overnight in Banff.

Day 9 - Discover Banff


Wake up and fill your lungs with mountain air. Today you will meet a guide and small group, for a

3 hour tour highlighing the best of Banff. Take a short stroll to visit the Hoodoos - an incredible sandstone formation which also boasts stunning views of the Bow Valley. Continue to Lake Minnewanka and Johnstone Canyon, offering picture stops of many glacial lakes and thundering waterfalls, and hopefully the opportunity to see big horn sheep, moose, elk, deer and bear. Your tour ends at the Banff Gondola (admission included), or with a drop at your hotel. Guests choosing to go back to their hotel may use their Gondola admission later in the day.

Day 10 - Onboard the Rocky Mountaineer – Banff to Kamloops
Your second journey onboard the Rocky Mountaineer begins today. There's a gentle pull as the train leaves Banff and the smell of breakfast wafts from the galley. The passing scenery is breathtaking; step out onto the outdoor viewing platform and feel the cool wind against your cheeks.

Day 11 - Canadian Rockies Train Adventure Continues – Kamloops to Vancouver
Back in your familiar seat on the Rocky Mountaineer train, you move from the arid interior of British Columbia to the coastal city of Vancouver and marvel at the diversity of the scenery you've seen during your Canadian train trip. Vancouver's personality is just the kind of last stop you need on your holidays in Canada.

Day 12 - With Fond Memories Made – Depart Vancouver


Much too soon, you leave the clean air and colourful sights of Canada behind as your Canadian Rockies train vacation comes to an end.

What's Included

Here are just a few of the things to look forward to on this trip...

• 11 nights of hotel accommodation
• Half day journey on the Whistler Mountaineer, through the Sea to Sky Corridor
• 4 spectacular days on the Rocky Mountaineer train, between Whistler and Jasper, and Banff and Vancouver
• Whistler Peak to Peak Gondola Pass (starts running May 26)
• Nature tour along Maligne Valley, and a cruise on stunning Maligne Lake (starts running in early June)
• Small group sightseeing transfer along the Icefields Parkway, including a picnic lunch and a ride onto the Athabasca Glacier (private sightseeing for Deluxe Plus, with 55 minute heli-tour over the Columbia Icefields)
• Interpretive transfer between Banff and Lake Louise (private guided half day tour for Deluxe Plus guests, from July onwards)
• Small group sightseeing tour of Banff and it's surroundings (3 hour)
• Banff Gondola Ride
• 5 delicious breakfasts and 4 lunches onboard the train
• A personalized pick up from your arrival airport (Vancouver)
• All train station transfers
• A personalized departure transfer, in time for your flight home
• Documentation package
• Friendly and dedicated Fresh Tracks Canada customer service


Customize this trip a little... or a lot

Think of this itinerary as just a starting point. Work with us to personalize this trip by adding some amazing side trips & activities, like...

• Upgrade, or mix and match hotel and lodge accommodations
• As us for first-hand advice on Rocky Mountaineer train upgrades
• Add a cruise to your trip, along Alaska's Inside Passage
• Add a car rental to your trip, to take some time for independent exploration
• Extend your stay in the Canadian Rockies for such activities as guided walking, a round of golf, a thrilling helicopter ride, or simply enjoy some quiet time to relax.
• Ask us about the alternative of guided walking or bike tours in Vancouver, Toronto, Montreal, or Quebec City
• Add a trip to Victoria, British Columbia's quaint capital city and visit the Butchart Gardens
• Add nights in any location
Accommodation Options
Below you'll find examples of this trip's accommodation options. Please call us for the full list or advice on how to customize your experience.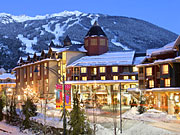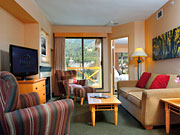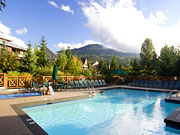 Delta Whistler Village Suites
An example of our Comfort accommodations
Located in the heart of the village and surrounded by Whistler's exciting buzz, the Delta Whistler Village Suites offers the comfort of suite accommodations, the convenience of a full service hotel and genuine care from all its staff. Services include health club, outdoor heated pool, two restaurants, in Resort shuttle service, ski storage and ski rental shop.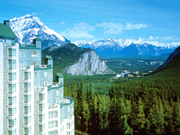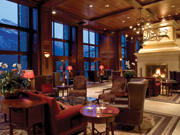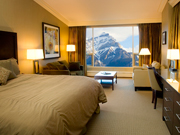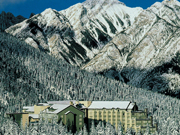 Rimrock Resort
An example of our Superior accommodations
The Rimrock Resort is one of Fresh Tracks favourite hotels! The hotel is built into the side of a mountain, when you enter the main lobby, you are actually on the 7th floor, and the views from the pamorama of windows over the Bow Valley are simply stunning. The hotel has an upscale yet understated feel, and the service is impeccable.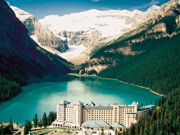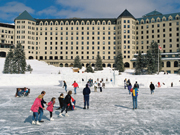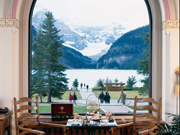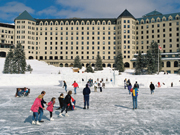 Fairmont Chateau Lake Louise
An example of our Deluxe accommodations
The Fairmont Chateau Lake Louise is undoubtedly a beautiful and impressive hotel. Its amazing location overlooking beautiful Lake Louise and the distant mountains can not be compared. There are a variety of restaurant types, so you can do casual or fine dining as you choose. Strolling around the lake, renting a canoe, riding horses, or hiking up to the tea house are all great summer activities. In winter choose from snow shoeing, skating, skiing or taking a sleigh ride around the lake.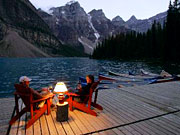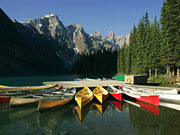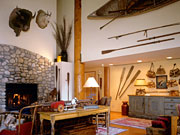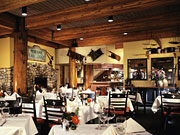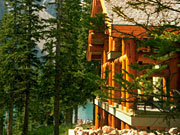 Moraine Lake Lodge
An example of our Luxury Mountain Lodge accommodations
Ask our vacation planners about customizing your trip, to stay in some of our more secluded, intimate, and unique wilderness lodges. First class service, gourmet cuisine, and luxurious accommodations are combined with rustic ambiance in a stunning setting. Step out of your doorway for a morning hike, then relax on your patio sipping wine, gazing at the reflection of snow capped peaks on pristine mountain lakes. Here, the only noise is the whispering of pines and the calls of alpine birds.
Prices & Dates
Trip Start Dates - 2013

Starts in Vancouver
May 17 24 31
June 7 14 21 28
July 5 12 19
August 9 16 23 30
September 6 13 20


Below you'll find the prices for this trip. Make sure to give us a call to chat about your options.

• Prices are per person, and double means two people sharing a room. Please give us a call for single, triple, or child rates
• Comfort, Superior, Deluxe, and Deluxe Plus refer to the hotel accommodations
• All prices include Whistler service on the train from Vancouver to Whistler
• RedLeaf, SilverLeaf, and GoldLeaf refer to the type of train service from Vancouver and Whistler to Jasper, and Banff to Vancouver.


Rocky Mountaineer Train Upgrade Prices:*

• RedLeaf Guests may upgrade to GoldLeaf service on the Rocky Mountaineer train for $1838 USD per person (includes portion from Vancouver to Whistler)
* Prices are per person


RedLeaf Train Service &
Comfort Hotels
USD$
Double
May 17, 2013
3,999
May 24, 2013
4,708
May 31 - Sep 20, 2013
5,149
RedLeaf Train Service &
Superior Hotels
USD$
Double
May 17, 2013
4,556
May 24, 2013
4,746
May 31 - Sep 20, 2013
5,569
GoldLeaf Train Service &
Deluxe Hotels
USD$
Double
May 17, 2013
7,428
May 24, 2013
7,776
May 31 - Sep 20, 2013
8,742
GoldLeaf Train Service &
Deluxe Plus Hotels
USD$
Double
May 17, 2013
10,192
May 24, 2013
10,692
May 31 - Jun 14, 2013
11,493
Jun 21 - Sep 20, 2013
12,104
Not Included
• Meals, other than those mentioned
• Airfare (but don't hesitate to ask for help)
• Gratuities for rail, hotel, tour & transfer staff
• Trip Cancellation Insurance (highly recommended)
• Canadian Sales Taxes
Why Book With Us?
What makes booking with Fresh Tracks Canada different?
Our commitment to making your trip an unforgettable experience
20 years of experience in travel
Intimate knowledge of Canada
Attention to every detail
Caring and creative people
Like This Trip?
Share it with your friends...
Subscribe
Start your lifelong love affair with Canada. Sign up for our monthly newsletter and get more of everything there is to love about this great country into your inbox.